My Story: An Entrepreneur at Heart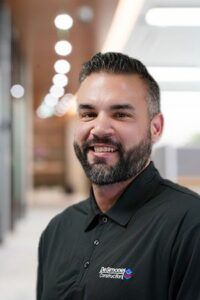 In many ways, my story parallels that of my Uncle Dennis. I too grew up visiting construction sites; not with my grandfather, but with him and my dad as they completed residential and commercial projects for our family business. As a young boy, I recall toying around in the carpentry shop we had at home, and, by my mid-teens, I was spending my summers working for DeSimone Construction.
Growing up with the in the family business, I had a natural passion for entrepreneurship. After graduating from Drexel University with a computer science degree, I wanted to follow my own path. So, in my early career, I ran several online resale companies, including a shop that provided electronic modifications to cars. Eventually, I was drawn back into the family business that I loved as a child and found great fulfillment in applying my programming skills there.
Merging Programming with My Roots
One of the first projects I undertook when I returned to DeSimone Construction was collaborating with my Uncle Dennis to create a project management and bid administration website. Putting my technical skills to work, we developed a tool that streamlined and managed the construction process of sharing bid instructions with contractors and preparing pricing for customers. This builder's tool, which was quickly embraced by our partners and employees, increased our efficiency and gave us an edge over our competition. Though the opportunity to sell this technology to others in the industry existed, we decided that we weren't going to be a construction management and software development company. But my love for our business kept me on a quest to increase efficiencies and further optimize our processes.
Mastering the Details Starts with Listening
At its most basic, attention to detail refers to one's ability to produce error-free work. One of the best ways to achieve this is to create and follow a system that helps you avoid mistakes. It's also about applying your specialized knowledge at the onset — listening attentively to the client's desires and needs — and throughout the construction process, formulating and pursuing the best project solutions.
In a recent ConstructConnect article, Editor Kendall Jones notes four keys to effective construction management: planning, monitoring progress and making adjustments, communication and collaboration. He specifically shares that "effective communication is vital to the successful completion of any construction project. Good communication can improve teamwork and lead to better project collaboration." We agree.
Our attention to detail starts with listening to our clients, working with them through the architectural design, permitting, project management, and construction process. It concludes with the selection of finishes that makes their dreams a reality.

In 2014, we embarked on a marketing research process to analyze our competitors to determine what made us different. It also assessed our performance through partner and customer interviews. What rose to the surface was our customer care, our craftsmanship, and our keen attention to detail. We were not only proud of the reputation we had earned through our years of effectively listening to our clients, we also used these finding to drive our rebrand and the adoption of our 'Masters of Every Detail' tagline.
Attentiveness + Technology Drives our Growth

As the company continues to grow, technology continues to be one of the driving forces in our success. In 2016, our quest for optimization led us to a project management tool called Procore. This dynamic tool gives our architects, vendors, clients, and staff access to plan submittals, drawings, change orders, daily logs, photos, and more in real-time. As it's accessible from a desktop, laptop, pad, or mobile phone, it provides conveniences that everyone in our construction process enjoys. Its efficiencies also double our project capacity as we no longer waste time looking for information in various places or waiting for external approvals. This technology really is the future of the construction industry and we've benefited from being early adopters.
Stay tuned for a future blog article where I'll dive deeper into the technology we use to master our construction management details.