In construction, as in most industries, your people are your business. At DeSimone, we've been fortunate to have excellent employees and to build a great team over the course of our history. Now that you've learned more about our Founder (my uncle) Dennis, his right-hand man (and my dad) Al, and me, I'd like to introduce you to the rest of our staff. This month, we'll start with those employees who are most likely to answer your call or greet you when you visit the office. And, next month, we'll share more about our field team.
As I worked under the leadership of my uncle Dennis for eight years prior to transitioning to the role of CEO in 2019, I've experienced and can say without a doubt that you need a strong office team to succeed and scale your construction business. At DeSimone, we've made and continue to make the investments needed to ensure the key roles of Controller, Project Manager, Project Administrator, and Office Administrator are filled with dedicated and skilled professionals. While each of these roles is critical to our success and continued growth, we'll shortly add to our ranks the important role of a Sr. Estimator/Business Development staff member to leverage our success and position us to secure new contracts in this competitive market. For now, I invite you to meet the current members of our office team who keep our projects on track from conception to construction completion.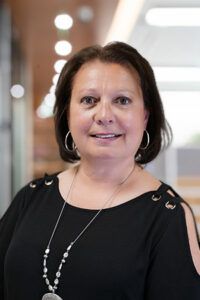 Christina Bradly, Controller
As Controller, Christina manages DeSimone's accounting department, payroll, and Human Resources functions. She's been with DeSimone for four years and applies her more than 25 years of experience to help the company grow.
Prior to joining DeSimone, Christina served as Controller for Thermoseal Industries for 17 years. In this capacity, she was responsible for all accounting, payroll, and human relations functions and also assisted with IT.
Before joining Thermoseal, Christina served as Controller for Norden and Bro, Inc., an international company, where she managed accounting, payroll and human resources responsibilities, as well as prepared statements using different international tax rules.
A native of Germany, where Christina completed her business training, she speaks and writes fluent German. She enjoys new challenges and strives for efficiencies in and continuous improvement of DeSimone's processes.
Michael Ashiotes, Project Manager
Michael Ashiotes has served as a Project Manager for DeSimone since 2021. He joined after six years with Insomnia Cookies, where he served as a Lead Renovation Project Manager and primarily focused on Existing Store Renovations/Remodels and New Store Builds.
Michael graduated from West Virginia University with a Bachelor of Science degree in Energy Land Management.Through his course of study, he gained extensive knowledge in property law and experience in Project Management, with a focus on the energy sector.
It was in West Virginia where he began to gather the set of skills that he now implements into his day-to-day tasks with DeSimone. As one of the newer members of the DeSimone team, Michael brings a different perspective and tech-driven mentality to help improve on the company's structure and processes. A dog and two cats keep him plenty busy and, in his free time, he runs an amateur men's soccer team in the Philadelphia region.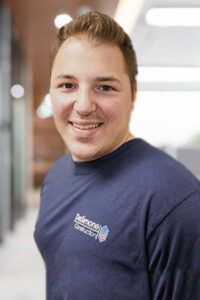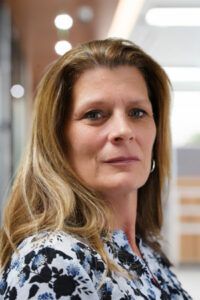 Jannell Diaco, Project Administrator
Project Administrator Jannell Diaco joined DeSimone in 2019 and handles all of the company's permitting requirements for commercial and residential projects, including zoning, planning, and construction applications.
She administers and expedites the bid process, administers all contracts with clients and subcontractors, engages commitments, change orders and purchase orders through Procore, manages inspection scheduling, updates plans, coordinates with all municipalities, and ensures compliance with state and local agencies for licensing and insurance requirements.
Prior to joining DeSimone, Jannell worked at the Gloucester County Tax Assessors Office, where she was responsible for assisting and processing Senior, Disabled and Veteran deductions, assisting County farmers in filing for their farmland assessment applications, providing information, and coordinating with residents to obtain eligible benefits.
Before this position, she worked for 15 years in administration at a real estate appraisal firm.
Dawn Smith, Office Administrator
Dawn Smith joined DeSimone in January 2023 as an Office Administrator, assisting the controller with accounting duties. In addition, Dawn assists the Project Administrator with ensuring compliance from all subcontractors for all active and completed projects. She also provides additional help with the new project bidding process.
Prior to joining the company, Dawn served as the Assistant to a real estate appraiser for 18 years. In that capacity, she assisted with comparable sales and adjustment research for the completion of appraisal reports. She also worked with the VA, banks, and mortgage companies to deliver completed appraisal reports.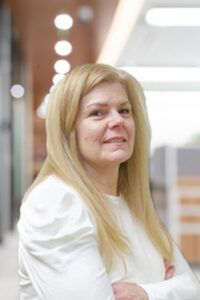 Success through Collaboration and Communication
As a design-build and construction management firm, having the right people in these critical positions contributes to our current success and to our continued growth. So is having the right systems that ensure effective collaboration and efficient communication, and that foster an environment where every team member is recognized and valued for their contributions to our project outcomes. Next month, I'll introduce you to our field team and share more about our Procore management system that keeps our office and field teams connected and that facilitates our success.