DeSimone's success is dependent on trusted partnerships with architects, designers, suppliers, contractors, and more. Construction's complex nature requires teamwork. In recent blogs, I've introduced you to our stellar office and in-the-field dream teams who oversee the construction process from conception to completion. However, as a design-build and construction management firm, DeSimone's success is equally dependent on our trusted partnerships. In our soon-to-be 50 years in business, we've had the privilege to develop long-term relationships with local and regional partners who help us master the details.
"The way a team plays as a whole determines its success. You may have the greatest bunch of individual stars in the world, but if they don't play together, the club won't be worth a dime."

– Babe Ruth
In addition to ongoing industry stressors, the pandemic and its aftereffects have changed the way developers approach projects. Staying within a client's budget has become even more challenging with inflation, supply chain issues, construction delays, and increasing costs of goods/materials, especially in commercial builds where scope creep can damage client relationships and eliminate future opportunities.
During NJBiz's May 23 Construction and Development virtual panel discussion, industry leaders noted that all of these problems from an uncertain economy increase developer risks and cause many to proceed with caution. To combat the uncertainty, Damian Santomauro, co-leader of, Construction Law & Litigation Team, recommends predicting possible pitfalls and preparing for them by tapping into past experiences and putting those lessons into practice.
At DeSimone, we value our team approach to pricing. As it's difficult to predict potential delays or setbacks from unknown conditions that could impact project budgets, we tap into our Estimators and Project Managers' extensive knowledge and experience, leveraging our large database of historical data and project pricing. We also work closely with our subcontractors who to provide competitive project estimates for their trade specific work to enable us to prepare a budget that gets us as close as possible to final costs at the most competitive price.
When you think of every nook, cranny, and feature of your home or your business, you can imagine the number of professionals it takes to build a commercial property or residential space. And, you need trade specific experts involved for each one of those tasks on your project. It takes time for a construction firm to cultivate those partnerships and establish good working relationships.
Partnerships in Action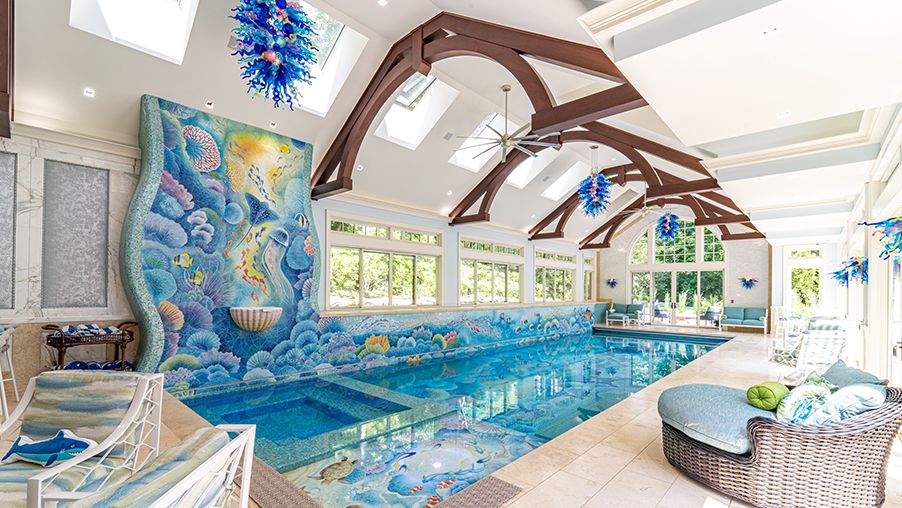 We recently completed a 5,000-square-foot indoor pool and outdoor pool project that showcased our partnerships, our construction management prowess, and our propensity for mastering the details. DeSimone completed these projects in collaboration with Holliday Architects, Liquid Design, two interior designers K Gallery Art & Design and Perkins Design, Chetti Landscaping, and in partnership with numerous trade-specific subcontractors such as heating/plumbing technicians and electricians, and material suppliers for roof truss and lighting systems.
As the home was built in 2005, we faced the challenge of integrating the existing architecture with the new structure and finding the original building materials to seamlessly tie in all elements. Materials were sourced from as far as California and Canada to achieve this goal. Construction started from the existing basement wall and includes a stairwell that leads to the indoor pool area. Industry professionals will tell you that it's easier to build new than to match up materials from an existing structure's architecture. Coupled with the need to selectively dissect existing conditions to allow for new structures and finishes, especially when working on such an extraordinary estate as this one to make it so seamless that the architect couldn't tell the difference between the new and existing finishes. This project excelled in this matter.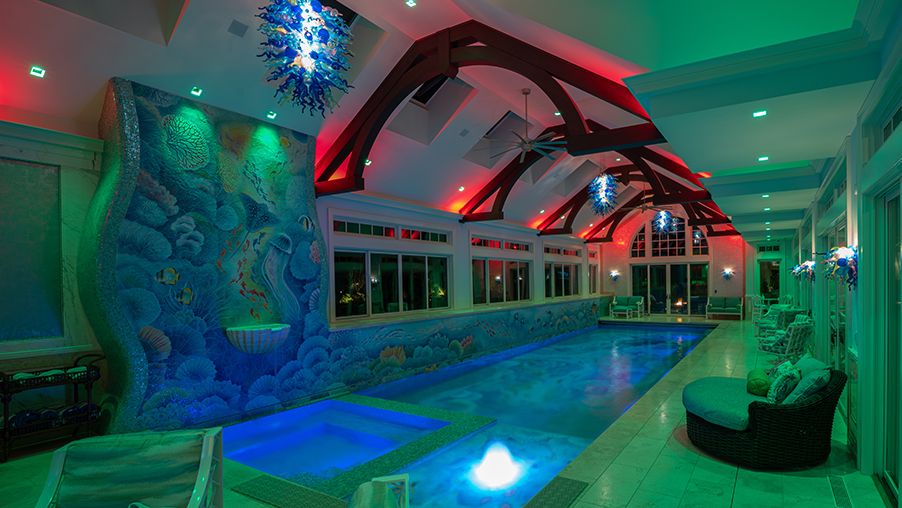 But, just don't take it from me. Here's what one of our trusted partners shared about this project. "Working with DeSimone made our job of designing and creating the construction documents less stressful when the Team is involved from the start of the project, like the Singh indoor pool project," shared Robert Nehring of Holliday Architects. "Dennis (DeSimone) knew all the contractors (the Team) that were going to be needed to make a grassy area in the client's yard become their dreams of the indoor pool building. Dennis always says that it is a Team effort for every project. Dennis has been building for a long time and his experience really shows it from the start. He knows what to look for and what details he needs in our construction drawings to make the process of building, run as smoothly as possible. Dennis matched every detail/color of the existing home to the new indoor pool building to make it a seamless transition from old to new," Nehring added.
At DeSimone, we evaluate partners not only on their commitment to abide by the legal and licensing requirements but also based on their experience, efficiency, and timeliness. We place high importance on the value and quality of the work they produce. They are a vital part of our team as they reflect our mission to deliver quality work and exceed our customers' expectations.