By Anthony DeSimone
A fit-out is when you have the shell or basic structure of a building and on the inside you "fit-out" the space to the needs of the renting tenant or business owner. Fit-outs are basically a blank slate and the level of work varies by project and often includes the addition of doors, windows, partitions, and the creation of separate internal spaces like patient rooms or offices. Upgraded AC, heating, plumbing, raised floors or modified ceilings, enhanced lighting and seamless remote technology are all possible variations of fit-out work. And, of course, everything must be completed in compliance with government standards and codes. The key to making a fit-out a success in our current climate is to create a space that speaks to the client's vision, functionality, and brand with flexibility and future growth in mind. But probably the most important fit-out trend, for design-build construction companies and business owners alike, is adaptability.
Here are some examples of the trends we've encountered post-pandemic: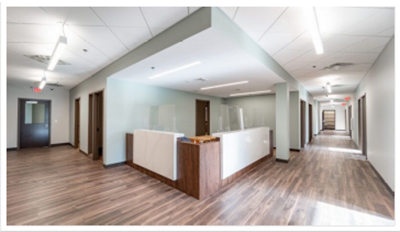 Hybrid Office Space
Open floor office space was a growing trend to promote collaboration and cross-team communication. Then the pandemic hit forcing many offices to pivot to a work-from-home environment. Now many of those companies are trying to bring folks back, to the chagrin of employees who are used to the new arrangement. With hiring shortages a continuing problem and the rediscovered desire for a better work/life balance, we see many corporations and businesses compromising by offering a hybrid work environment. What does this mean for the construction industry?
Companies embracing a hybrid state of mind are less likely to construct large office complexes and more likely to fit-out a greater number of smaller office hubs to accommodate the growing number of hybrid employees. While collaboration is expected for those visiting the office, the need still exists for quiet concentration spaces to complete focused work. The use of modular office spaces fulfills the need for both privacy and collaboration. Modules offer flexibility as walls and dividers can be adjusted based on your company's needs and growth.
Greener Efforts
Green or sustainable construction means less impact on the environment and making use of sustainable products. These efforts keep energy and utility costs down, and they align with changing
standards and regulations. Environmental, Social, and Governance (ESG) criteria are used to measure a company's environmental risk and harm to the environment. Construction companies that follow ESG practices can significantly reduce energy usage and repurpose recycled materials to reduce waste, making it less of a trend and more of a new way of building.
Rastelli Foods Group set goals to increase its sustainability and reduce its carbon footprint across several aspects of its business in its office expansion project. With that in mind, as its Design-Builder, we took measures to ensure the new space was not only comfortable but also energy-efficient and sustainable.
Employee Wellness
Another fit-out trend we're seeing is a focus on wellness, which ranges from building meditation rooms, adding more windows to flood the space with natural light, or using plants and other greenery as decor.
After fire severely damaged their Woodbury Heights location, the owners of Pat's Select contacted us for their rebuild. We worked with the restaurant's original designer from Greece to fully repair the interior and exterior and get them back to business in three months. The new design incorporates a lot of greenery that reminds customers of a less stressful, European lifestyle to complement the restaurant's delicious meals made from fresh ingredients.
Wellness was another aspect that Rastelli Foods Group felt strongly about during its office expansion project. We made certain to provide exposure to natural light with the addition of the skylight atrium. We also brought the indoor-outside with the construction of an outdoor patio kitchen. The patio served the purpose of a special outdoor QVC shoot but remains for the benefit and enjoyment of their employees and guests.
Technology Integration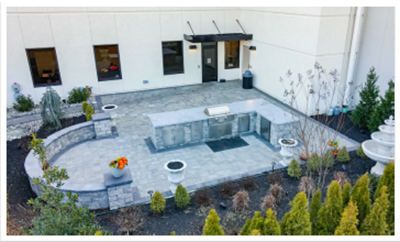 Technology is forever advancing, and it plays a huge role in our lives. Any business looking to fit-out a new location will need to consider the inclusion of the most recent technology. Hybrid offices have upped their game so that communication and collaboration between in-office and remote employees can occur without issue. Prepping a room for high-quality technology like speakers, monitors, security systems, and even enhanced remote lighting features has become a growing trend.
Flexible Workspaces
We are currently on our third fit-out project for Elite Salons. This fit-out is the perfect example of how small business owners can pivot successfully in financially turbulent times by renting flexible space that gives their business room to grow. In this example, an LLC owns the building, and renters offset high brick-and-mortar costs, creating a positive scenario for both parties.
DeSimone's soon-to-be company headquarters is another example of the ways companies are forging ahead with shared space in mind. This past year, we purchased a building in Glassboro and plan to move into our fit-out location space in 2024. DeSimone will occupy 8,000 square feet of the former medical space and 5,000 square feet will be outfitted for a renting tenant.
The Future of Fit-Outs
With a bit of creativity and entrepreneurship, we're seeing large complexes that were built decades ago developed into bustling communities. Originally the six-story Bell Labs headquarters in Holmdel, NJ, the reimagined and repurposed Bell Works building now houses shops, restaurants, entertainment spots, and fitness areas on the ground floor, and rented office space on the floors above. DeSimone will soon be embarking on a project to fit-out a pickleball arena and juice bar in this expansive complex.
Adaptability
To sum it up, the pandemic took a toll on the construction industry and we are still recovering from unprecedented supply shortages and unusual delays in acquiring permits and permissions for builds. All of this continues to lengthen the time it takes to complete fit-outs, let alone to get to groundbreaking on new construction projects. To succeed, construction companies need to be adaptable. While being agile and able to quickly pivot in this "new norm" is challenging, it's what's required. At DeSimone, we're up to the challenge.