As DeSimone prepares to mark 50 years in business in 2024, we've spent some time recently reflecting on our past, evaluating our present, and considering our future. This contemplation will lead to changes you'll be seeing soon, including an enhancement in our brand, a change in our office location, and this blog issue, through which we invite you to join us on our continuing journey.
In the beginning…
While DeSimone was technically incorporated as a business entity in 1972, the DeSimone family roots in construction started with Albert and Dennis' father, Anthony's grandfather, Albert. He informally ran a construction business, making renovations for neighbors, where his sons gained first-hand knowledge of the industry.
After graduating from Delaware Valley University with a Chemistry degree, Dennis founded DeSimone in 1974. As primarily a carpentry business, he was hands-on working in the field, along with other contractors, completing rough carpentry and finished work projects. Joined by his brother Al, the duo focused primarily in the residential space, completing their first home in the founding year.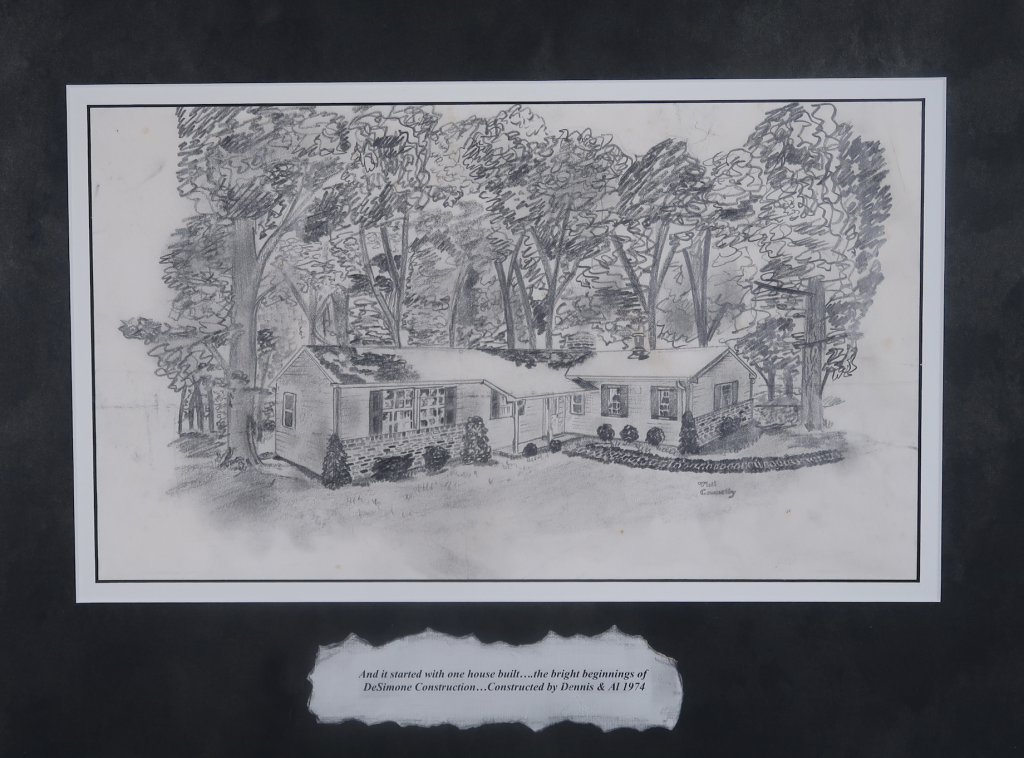 From field construction to construction management…
In 1982, Dennis transitioned from working in the field to focus on what would become the company's sweet spot, overseeing the entire construction process. He completed the bidding process, managed the residential and commercial projects, and oversaw the DeSimone office staff and 15 full-time carpenters. Other members of the DeSimone family also lent their talents to the company's success. In 2009, Dennis' daughter Patience began working for the family business doing estimating, a position she held for approximately seven years. He fondly recalls her integral role in establishing the company's foundation and culture. Patience would have likely still been with our family business but, sadly, she passed away in 2016.
Adding Technology to Master the Details


Growing up in the family business, as Albert's son, I always had a passion for construction. With a degree in computer science, and a couple of successful internet businesses under my belt, I returned to my roots in 2012, joining my father and uncle as a DeSimone Project Manager. It's been an adventure and a privilege to apply my advanced knowledge of technology to help our company master the intricate and multifaceted construction details. This includes developing and managing programs that provide our clients, designers, and architects with on-line tracking of construction projects in progress, as well as ensuring our subcontractors and material suppliers have the most recent project plans and specifications. The success of these programs has been well received by clients, professionals, tradesmen and peers, earning DeSimone much respect in the industry.
Approaching 50 years in business
Throughout his decades of leadership, my uncle Dennis seeded faith in DeSimone internally with our employees and externally with our clients, partners and community members. We'll take a deeper dive into his stellar career in the next issue, so subscribe to our blog to stay informed.
Dennis formally transitioned the leadership role of DeSimone to me in 2020, and I'm humbled to follow in his footsteps. With his and my father Al's continued support, I'm also committed to continuing the company's dedication to construction excellence and growing our presence in Eastern Pennsylvania and Southern New Jersey.
Thanks for your interest and support for almost 50 years. To learn more about our company, check out this recent taping Dennis and I completed for the Family Business World show.